Happy House and Happy Street DVD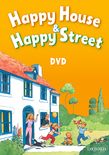 Happy House and Happy Street DVD
A new reason to be Happy - a new DVD to cover two series
A new DVD to support Happy House and Happy Street
The new DVD increases the number of teaching hours for both series with clips showing real life British culture.
Free worksheets to support the teaching of each clip - will be available to download soon
Reinforces target language by seeing and hearing English together.
Brings to life the vocabulary and structures taught in the courses.
Optional English language subtitles
Features traditional songs and rhymes
Shows British children and families in real life situations.

Teacher's guide - to link DVD and Class Books.

Cross-curricular insights into British culture.

| Happy House 1 | Happy House 2 | Happy Street 1 | Happy Street 2 |
| --- | --- | --- | --- |
| In the classroom | At the zoo | At school | Ben and Jessica's day |
| Ten little teddy bears | I don't like milk | Money in Britain | Sandwiches for lunch |
| At a toy shop | This is the way | I like pizza | I go to school by car |
| I've got a kite | Two little eyes | Where's my bag? | Where's Aunt Jane's house? |
| The Hokey Cokey | I've got blonde hair | At a big, old house | What do you like doing? |
| Oh, Christmas tree! | A fashion show | He's got green eyes | A witch came flying |
| | The sun has got his hat on | At the sports centre | Bonfire Night |
| | Hot cross buns! | Christmas in Britain | My Dad's job |
| | | | What's she doing? |
| | | | A Christmas song |