Hello
You can visit our worldwide website for our globally available teaching resources, or visit our local website for for products, events and materials for your area.
Please choose below:
Happy House 1 New Edition
British English course for Primary
Second Edition
Stella Maidment and Lorena Roberts
One of the world's most successful primary courses, the Happy Series is a six-level course that's perfectly in step with your students' development.
Happy uses different kinds of learning strategies to match children's changing development and learning styles.

Start the learning journey in the reassuring setting of Happy House.

Introduce children to reading and writing English in the wider world of Happy Street.

Explore a world of fascinating facts with the topic-based approach of Happy Earth.

Happy at all levels of primary!
Class Book
Teacher's Book
Teacher's Resource Pack
Class Audio CD
Classroom Presentation Tool
Happy House and Happy Street DVD
Strong skills development
Much loved story-based methodology
Cross-curricular and cross-cultural focus
CYLET style activities and resources
Engaging print and digital classroom resources
The Happy Series was created to bring happiness into the classroom because experts agree that it's easier to help pupils learn a language in a positive learning environment.

The fantastic songs, imaginative stories, and much loved characters lead children through 3 settings – Happy House, Happy Street, Happy Earth – that are perfectly in step with a child's development.

Happy House starts with listening and speaking, introducing the written word in the second year. The stories of Polly's and Jack's family and the mice that live under the floorboards offer an attractive combination of familiar and fantasy worlds.

Happy Street is for children who are ready to read and write. The characters from Happy House have grown up a bit and are exploring the streets! The adventures of 'Colin in Computerland' are loved by students.

Happy Earth is a topic-based course with a focus on culture for children who have done two years of reading and writing. Happy Earth bridges the gap between primary and secondary courses.

Happy teachers meet their students' needs!

A methodology and classroom procedures that really work have made Happy an international best-seller.
Use the Happy Series as a six-year course or each cycle as a two-year course.
For Happy House 1 New Edition
(5)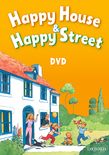 DVD
978-0-19-400374-2
The new DVD increases the number of teaching hours for both series with clips sh...

Activity Book
978-0-19-473054-9