Let's Go 6 Teachers Cards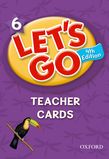 Let's Go 6 Teachers Cards
Fourth Edition
Success from the very beginning.

Millions of children around the world have learned to speak English through the trusted methodology of Let's Go.
Let's Go Level 6 maximizes children's talking time in class through dialogues, pair work and communicative games. This combined with the rhythm and melody of the acclaimed Carolyn Graham songs makes the language memorable.
Conversations and question-and-answer practice get children talking from the very beginning.
Interactive songs and chants by Carolyn Graham bring classrooms to life.
New Phonics and reading lessons help children to read fluently.
New Fun phonics chants and drum tracks improve pronunciation and intonation.
New Communication games give children many more opportunities to use English with confidence.
New Test Center CD-ROM includes placement tests and print-ready and editable unit, mid-term, and final tests.
Bring language learning alive with extra online activities that you can assign and track.al
Success from the very beginning

1. It gets children talking from the very beginning with conversation, and question and answer practice.

2. It teaches each language pattern step by step and repeats it with plenty of practice which leaves every child feeling 'I can do it!'

3. It uses children's natural skills through music and movement with the acclaimed Carolyn Graham's fabulous songs, chants and drum tracks – so they will remember the language and build their fluency.

4. The lessons are systematic, clear and so involving that everyone knows what to do and no child is left behind.

Let's Read …
Now there are new phonics and reading lessons to help children read fluently too!