Let's Achieve available on USB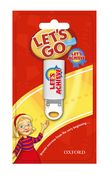 Let's Achieve available on USB
New support for Let's Go 4th Edition.
Fourth Edition
A 3-in-1 teacher toolkit that helps you document your students' progress and learning outcomes, provides extra practice on grammar and vocabulary, and helps you plan more effective classes.

The toolkit includes:
Assessment for Learning grammar and vocabulary test package and review worksheets
36- and 48-lesson curriculum plans
Editable worksheets
Let's Go maximizes children's talking time in class through dialogues, pair work and communicative games. This combined with the rhythm and melody of the acclaimed Carolyn Graham songs makes the language memorable.
Track students' progress with 42 pre-, progress and post-tests.

Support their learning with 112 grammar and vocabulary review worksheets.

Customize activities for your students with 112 editable worksheets which include 130 new and reusable illustrations.

Design effective classes with 36- and 48-lesson curriculum plans.
Is showing proof of progress important to you?
Do you want to track your students' learning outcomes?
Let's Achieve can help:
Pre-, progress and post-tests
Assess your students' progress with 1 pre-test, 4 progress tests and 1 post-test for each level.
You can use the results to show parents proof of their children's learning outcomes in grammar and vocabulary progress.
Progress tracker
The progress tracker spreadsheet helps you to track and organize test results.
It allows you to easily see progress and learning outcomes information.
Grammar and vocabulary worksheets linked to the progress tests give extra support
Let's Achieve uses the test results to identify which worksheets your students should use - making it easy and quick for you to give them extra practice material.
The 16 worksheets in each level can also be used as material for fast finishers or as homework.
Curriculum plans
Design effective classes with curriculum plans that show all the available components from Let's Go Fourth Edition
Make plans for 36 and 48 lessons.
Editable worksheets
Customize worksheets easily by replacing existing artwork with new illustrations included in Let's Achieve.
Choose from 130 new, reusable illustrations within 15 categories.
You may also be interested in...