Oxford Phonics World Readers Level 5 The Painter is in Town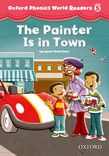 Oxford Phonics World Readers Level 5 The Painter is in Town
Oxford Phonics World is the first step on your students' journey into English, leading you through all 44 sounds.
ISBN:

978-0-19-458916-1

Pages:

16

Binding: Paperback
Dimensions: 254x178 mm
This 5-level phonics course can be used before or alongside a main course book. Thought-provoking and engaging activities let children actively apply what they learn. They learn to really read, not just memorize words and sounds.
Over 150 Phonics Friends - an angry apple, a big bear, and others - help children remember English sounds.
Action songs, chants, and games encourage children to discover connections between English sounds and letters.
Active class activities develop children's listening, speaking, reading, writing, and spelling skills and provide opportunities to apply them.
Teacher's Books for every level include a games bank, and guides you step-by-step through teaching phonics.
NEW Phonics Reader e-Book promotes home-learning, encouraging a love of reading for pleasure. (levels 4-5)
Let us guide you through the world of phonics...
"As a journey of a thousand miles begins with a single step, so the journey of learning English begins with Phonics." Craig Wright – Author
Children learn sounds step-by-step
A unique journey strip at the bottom of each page shows the sounds learned, and sounds still left to learn
Review sections let students and teachers see their progress
Go even further with 'Now try these!' activities