Hello
You can visit our worldwide website for our globally available teaching resources, or visit our local website for for products, events and materials for your area.
Please choose below:
Oxford Phonics World Level 5
Let us guide you through the world of phonics...
Kaj Schwermer, Julia Chang, Craig Wright
Oxford Phonics World is the first step on your students' journey into English, leading you through all 44 sounds.
This 5-level phonics course can be used before or alongside a main course book. Thought-provoking and engaging activities let children actively apply what they learn. They learn to really read, not just memorize words and sounds.
Student Book with Student Cards and Reader e-Book (Levels 4-5)
Workbook
Teacher's Pack (Teacher's Guide with Classroom Presentation Tool)
Phonics Cards
Phonics Readers and Reader e-Books
Over 150 Phonics Friends - an angry apple, a big bear, and others - help children remember English sounds.
Action songs, chants, and games encourage children to discover connections between English sounds and letters.
Active class activities develop children's listening, speaking, reading, writing, and spelling skills and provide opportunities to apply them.
Teacher's Books for every level include a games bank, and guides you step-by-step through teaching phonics.
NEW Phonics Reader e-Book promotes home-learning, encouraging a love of reading for pleasure. (levels 4-5)
Let us guide you through the world of phonics...
"As a journey of a thousand miles begins with a single step, so the journey of learning English begins with Phonics." Craig Wright – Author
Children learn sounds step-by-step
A unique journey strip at the bottom of each page shows the sounds learned, and sounds still left to learn
Review sections let students and teachers see their progress
Go even further with 'Now try these!' activities
"We started using Oxford Phonics World 2 just this year…

My job is easier because of the quality of the materials…and my students are more excited to learn English because the material challenges them in just the right way, offering a task that takes some struggle, but can be overcome…

Now, our students' writing ability is significantly higher than before, and they are often able to read the short phrases in the stories they're presented without teacher aid… They like seeing just what they can do, and being able to hold a book that they read on their own makes them visibly proud."

Corey Fegan – Sendai Shirayuri Elementary, Sendai, Japan
Phonics Readers and Phonics Reader e-Books
Continue the journey into English...
Extra reading practice for all children learning English
Listen along with downloadable audio
Practice new vocabulary through end-of-story activities
Notes for teachers and parents
For Oxford Phonics World Level 5
(15)
Phonics Cards
978-0-19-459274-1
5 levels of phonics for use before or alongside your main course book.

Workbook
978-0-19-459627-5
5 levels of phonics for use before or alongside your main course book.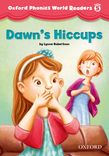 Dawn's Hiccups
978-0-19-458918-5