Oxford Picture Dictionary for the Content Areas Classroom Presentation Tool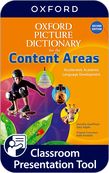 Oxford Picture Dictionary for the Content Areas Classroom Presentation Tool
Second Edition
The Oxford Picture Dictionary for the Content Areas is a program for elementary and secondary students. This complete language development program presents and reinforces the content vocabulary and academic language that are required for students to think, speak, read and write about social studies, science, and math.
Language Level: Beginner to Intermediate
Deliver heads-up lessons by bringing easy-to-use digital features to the front of the classroom.

Capture students' attention with activities that fill the screen so that everyone can participate, even large classes.

Play audio at the touch of a button for classes that run smoothly every time.

Feel confident teaching with technology - use the Classroom Presentation Tool offline or online, from your computer or tablet. Take it with you to plan your lessons wherever you are, save your web links and notes onto the page and update across your tablet and computer - all with one account.
Show the Oxford Picture Dictionary for the Content Areas on screen during lessons.
Play audio at the touch of a button.
Launch activities in full-screen mode to focus your students' attention on a single activity.
Open the scripts that accompany audio activities so students can read the dialogue at the same time.
Look-up words on-screen with the integrated dictionary.
Speed up or slow down the audio to tailor lessons to your students' listening level.
Record your students speaking and compare their voices to the course audio.
Plan your lessons wherever you are. Add text or audio notes to a page, save your web links, then open them in class.
Use a range of pen and highlighter tools to annotate the page.
Accelerate your students' academic language development with the second edition of the Oxford Picture Dictionary for the Content Areas program. This program:

Uses direct, explicit vocabulary instruction, which improves learning outcomes for ELLs and struggling learners.

Helps English learners and struggling learners acquire new content area vocabulary and build word knowledge from incremental, repeated and varied exposures to words.

Has an instructional routine that uses the research-based Gradual Release of Responsibility, Productive Partnering and other models as an effective way of increasing language acquisition.

Is standards based and aligned to the Common Core State Standards and other leading research on what works most effectively.

Uses scaffolded and differentiated instruction to improve vocabulary acquisition for English language learners.
The licence period for this product is perpetual.
The use of this product is subject to the Oxford Learners Bookshelf
terms and conditions
.

The second edition of this well-loved dictionary with an increased emphasis on academic language, alignment to curriculum standards and a research-based pedagogy.