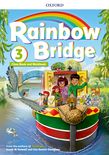 Hello
You can visit our worldwide website for our globally available teaching resources, or visit our local website for for products, events and materials for your area.
Please choose below:
First Edition
Sarah M. Howell, Lisa Kester-Dodgson
Children will love exploring the lively, magical world of Bridge Town with their new friends Poppy, Rowan and Fern. The changing seasons provide a backdrop to the adventures of a diverse cast of characters that capture children's imagination and attention.
Combined Class Book & Workbook
Student Website
Teacher's Guide Pack with Classroom Presentation Tool
Teacher's Resource Pack
DVDs
Teaching Resources Website
Reinforce children's grammar and vocabulary learning with plenty of pen-to-paper practice activities.
Develop students' critical thinking and 21st century skills with 'Think' activities, real-world tasks and creative projects.
Help students to connect English with other school subjects through CLIL lessons supported by video.
Build children's understanding of citizenship issues, such as care of the environment, tolerance and inclusion.
Provide a gentle introduction to sounds in English through 'Sound Play' activities.
Give every child the chance to build their knowledge, skills and confidence in English with flexible resources that include tests and activities designed for students with special educational needs.