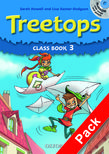 Hello
You can visit our worldwide website for our globally available teaching resources, or visit our local website for for products, events and materials for your area.
Please choose below:
Treetops 3
Sarah Howell and Lisa Kester-Dodgson
Illustrated by Poly Bernatene
Part of: Treetops
Language Level: Beginner to Elementary
Make English lessons exciting and fun with Treetops.

Delightful characters and stories stimulate students' imaginations, motivating them to learn.

Three engaging contexts, the seasons, the town, and medieval legends, offer you the opportunity for fun cross-curricular activities.

And, you can enliven your lessons with the wide range of resources including puppets, posters, and classroom routines for all of the songs.
Integrated Class Book and Activity Book with MultiROM
Teacher's Book
Teacher's Resource Pack
Audio CD
Delightful context - set around the seasons at lower levels and the medieval world and legends at level 4
Beautiful illustrations
Great songs, stories, and classroom routines
Festival and culture pages
Gentle cross-curricular content
A wide range of teacher's resources including puppets and seasonal posters
Teachers using Treetops tell us, "The atmosphere in class is one of motivation," and it's not hard to see why.

The beautifully illustrated stories and catchy songs stimulate children's learning, giving them the confidence to communicate in English.

Enchanting characters take children on an adventure through three settings - Treetops Wood, Treetops Town, and medieval Britain.

In levels 1 and 2, your class will make friends with Bud and Holly, joining them as they explore Treetops Wood during the different seasons.

The seasonal context lets you present English through a topic that is familiar to your class, building upon knowledge and skills they have learnt in other subjects.

In level 3, Bud and Holly's adventures in Treetops Town offer students the opportunity for more extended reading and listening work. The stories and topics reflect students' changing interests and teach them about citizenship issues such as road safety.

The amusing tales of knight-in-training Percy and Laura, in level 4, promote reading for enjoyment, and can be used as the starting point for lots of fun cross-curricular activities. A wide range of resources including stunning seasonal posters, puppets, and Audio CDs help you to bring the stories and songs to life.