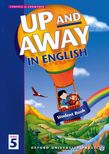 Hello
You can visit our worldwide website for our globally available teaching resources, or visit our local website for for products, events and materials for your area.
Please choose below:
Up and Away in English 5
Student Book
Class Audio CD
Workbook
Teacher's Book
It offers a traditional approach and a comprehensive grammar-based syllabus.
An engaging cast of characters is used across all levels and components.
The lively, colorful illustrations will appeal to young learners.
Its clear, simple format makes it ideal for large classes.
Two Readers accompany each level. They recycle the language from the Student Books in a motivating way and help students develop their reading skills.