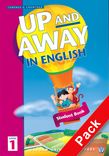 Hello
You can visit our worldwide website for our globally available teaching resources, or visit our local website for for products, events and materials for your area.
Please choose below:
Up and Away in English Homework Books
Terence G. Crowther, Kerry Watkins
A six-level set of books with a traditional approach, filled with language and skills exercises, which can be used independently, either at home or in the classroom.
Thematically correspond to Up and Away in English Student Books, Workbooks, and Readers.
Audio CD included.
Challenging exercises with critical thinking components.
Addresses vital reading, writing, and listening skills.
Suitable for independent study.
Uses a straight-forward, traditional approach.
Review units found every 2-3 units to test progress.
Parent/teacher signature boxes on every page.
These books not only provide a thorough review, but they also simultaneously push the students to effectively produce the language and grammar structures on their own. This is yet another component and a perfect compliment to the Up and Away in English: Student Books, Workbooks, and Readers. Take your level of English Up and Away with these fantastic new books.