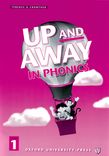 Hello
You can visit our worldwide website for our globally available teaching resources, or visit our local website for for products, events and materials for your area.
Please choose below:
A six-level series which gives children a thorough grounding in English language phonics.
Language Level: Beginner to Intermediate
Up and Away in Phonics is an ideal supplement to Up and Away in English, but may also be used independently.
Phonics Book
Book and Audio CD Pack
Cassette
It provides a clear, structured presentation of the basic phonics principles necessary for learning to read in English.
It covers initial consonant sounds, vowel sounds, blends and digraphs.
It is an excellent supplement to Up and Away in English with the same design, some of the same vocabulary, and the same appealing characters. It can also be used independently.
A Cassette at each level presents the exercises and provides a pronunciation model.