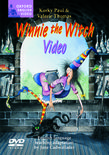 Hello
You can visit our worldwide website for our globally available teaching resources, or visit our local website for for products, events and materials for your area.
Please choose below:
This edition for learners of English retells the story of Winnie the Witch and her cat Wilbur in simple language suitable for young children.
The vocabulary, topics, and structures used are those found in the first level of any primary English course.
The original illustrations in full colour will delight children.
It includes a Picture Dictionary with key vocabulary from the story.
A write-in, 12-page Activity Book contains simple activities, songs, and chants, based on the story.
There is an accompanying cassette with the complete story, songs, and chants.