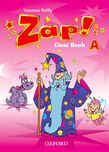 Hello
You can visit our worldwide website for our globally available teaching resources, or visit our local website for for products, events and materials for your area.
Please choose below:
A two-level package for young learners that starts with listening and speaking but can move on to reading and writing as soon as your class is ready.
Zap! is an introductory series that is designed to be followed by the four-level Zabadoo! series, which takes children to the end of primary school.

Zap! A is a wordless starter book, while Zap! B introduces the reading and writing of individual words.
Class Book
Teacher's Book
Class CDs (2)
Two-level, oral-aural course based around a child's own experience of the world.
Specially designed for very young learners who are just beginning to read in their own language.
An appealing glove puppet of the main character, Marvo the Magician, gives children a real incentive to use their English to join in with the songs and activities.
Clear, easy to learn songs are a regular feature of the course.
Puzzle pages, stories and cut-outs stimulate imagination, consolidate learning and give children a sense of achievement, whatever their ability.
Festivals units introduce young children to cultural aspects of the English-speaking world.