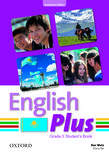 Hello
You can visit our worldwide website for our globally available teaching resources, or visit our local website for for products, events and materials for your area.
Please choose below:
English Plus Kazakhstan Grade 5
An English course for Kazakhstan students.
Ben Wetz, Diana Pye, Nicholas Tims, and James Styring

Approved by the Ministry of Education and Science of the Republic of Kazakhstan
English Plus Kazakhstan is a flexible and supportive course that builds confidence through graded practice.
English Plus develops students' communication skills through a structured and methodical approach, helping students to achieve their individual learning outcomes in every lesson.
Student's Book
Workbook with MultiRom
Teacher's Book + photocopiables
Test Bank MultiROM with editable tests
One lesson-per-page structure allows you to plan lessons easily
'I can' statements, learning objectives, and presentation-practice-production methodology ensures all students achieve a productive outcome, regardless of their ability
Step-by-step writing lessons and step-by-step speaking practice to build students' confidence
Options provides four optional extra lessons of CLIL, Culture, Vocabulary, or Listening and Speaking practice for each unit, linked to topics and language in the main units
Graded grammar and vocabulary photocopiables in the Teacher's Book and Online Practice activities offer the opportunity to supplement or extend lessons
A supportive course that helps students of all abilities build confidence through graded practice. The flexible package makes it ideal for mixed-ability classes, and varying teaching loads.