Hello
You can visit our worldwide website for our globally available teaching resources, or visit our local website for for products, events and materials for your area.
Please choose below:
Third Edition
今なお世界で最も信頼されている一般向け英語教材である『American Headway Third edition』は、バランスの良いシラバスと、類書を上回る数の会話、アセスメント、デジタル教材および学習素材を兼ね備えています。
『American Headway』は常に信頼できる教材です。文法、明確な語彙シラバス、統合型スキルワークに焦点を当てた実証済みの教授法は、受賞経験者であるジョン・ソアーズとリズ・ソアーズが開発し、授業で実際に効果を発揮しています。教室の外での英語の活用をこれまで以上にサポートする第3版には次のような特徴があります。
より多くの会話が学習者のスピーキング能力向上を加速させます。 ダウンロード可能で100刷新されたアセスメントが、高レベルなテストの成功に向けた準備をサポートします。 新しいデジタル教材および学習素材パッケージにより、教室の中だけではなく教室の外でも学習することができます。
文法を重視した構成
バランスのとれた、統合型シラバス
コンテンツが75%刷新され、新鮮なトピックで学習が可能
スピーキングの機会の増加
Testing Programからダウンロードできる、100%刷新されたアセスメント
Oxford Online Skills Programが目標を定めた練習の機会を与え、リーディング・リスニング・スピーキングスキルを向上させます。各レベル30時間。
iChecker Online Self-Assessmentは、自動採点式のオンラインセルフアセスメントを提供し、標準化されたテストの準備をサポートします。
The
Headway
series and its award-winning authors, Liz and John Soars, have helped around 100 million students in over 127 countries learn English. Teachers around the world have told us that Headway helps students succeed in and beyond the classroom. Read their stories at
www.oup.com/elt/provensuccess.
American Headway third edition supports students to succeed beyond the classroom more than ever before. Students can:
Accelerate their progress in speaking and prepare for high-stake tests with more conversation.
Manage their own learning with new digital resources.
The Oxford Online Skills Program allows students to improve their reading, writing, listening and speaking skills independently.
iChecker Online Self-Assessment prepares students for exam success with a variety of exam-style test preparation exercises.
American Headway
also supports teachers to prepare successful lessons. In our
American Headway
global teacher survey (Oxford University Press, 2014), 89% of teachers reported that they are more creative and willing to try new activities after using
American Headway.
71% said they are more passionate in their teaching. With the third edition, teachers can now:
Download 100% new assessment material from the Testing Program.
Bring the Student Book, Workbook, and all media together in one place and create a dynamic classroom environment with iTools classroom presentation software.
How to get started teaching with the online practice for your course
Take a look at our short tutorial videos, webinar recordings, and guides to help you get started, manage your account, and use the learning management tools. Go to
www.oup.com/elt/teachonline
iChecker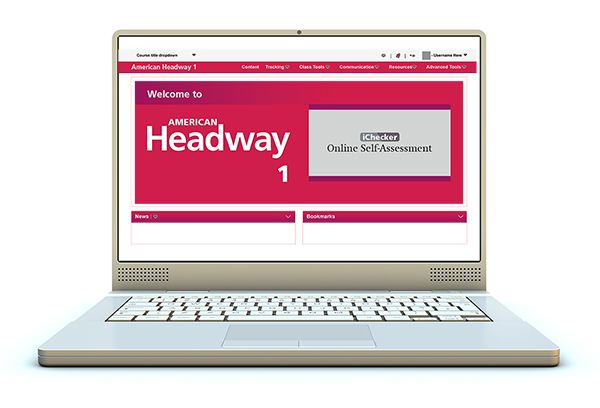 iChecker Online Self-Assessment allows students to manage their own learning and consolidate their knowledge.
Prepare for exam success: Online test preparation lessons help students to apply their knowledge in an exam format, preparing them for success on the TOEFL® IBT and other standardized exams.
Receive instant feedback: Interactive and automatically graded activities provide students with instant feedback for independent learning and improvement.
Review all key learning points: Progress checks for each unit ensure that students review what they have learned in class.
iTools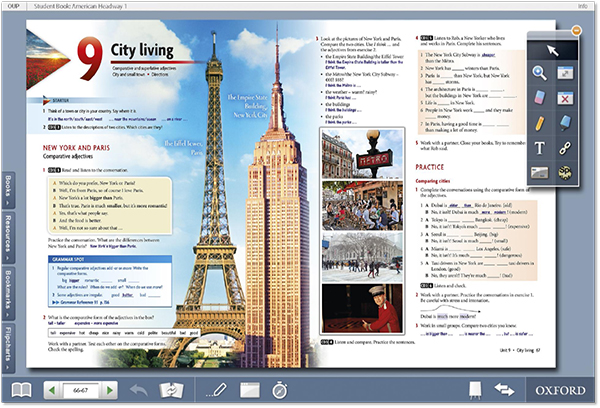 iTools
classroom presentation software brings the Student Book, Workbook and all media together in one place to create a dynamic classroom environment
USB delivery: Easier to access the content than ever before - no internet connection required and the content can be easily moved from classroom to classroom.
Encourage heads-up learning: Interactive version of the Student Book and Workbook on screen and teacher tools to write, highlight and erase on screen creates engaging heads-up learning opportunities.
Access extra class resources: Extra resources include Grammar PowerPoint® presentations, photocopiable activities, worksheets, integrated audio clips and video content to download.
Testing Program
The Testing Program can be used to extend students' learning, with 100% new assessment material available to download online.
Increased flexibility:Tests can be downloaded online and can be sent to classes as a digital version, or used as a print version.
Wide range of testing material:

Unit tests
Skills Test
Stop & check tests
Progress tests
Exit tests