Hello
You can visit our worldwide website for our globally available teaching resources, or visit our local website for for products, events and materials for your area.
Please choose below:
Passport First Edition
The best-selling Japan-specific course that teaches basic survival English.
First Edition
Angela Buckingham and Norman Whitney
Our best-selling, functional speaking and listening course for adult Japanese learners that teaches basic survival English. It is accompanied by a companion edition, Passport Plus.
Student Book
Audio CDs
Workbook
Teacher's Book
Passport really is a book for international communication. Featuring five Japanese characters as they travel overseas, this low-level speaking and listening course is ideal for Japanese students who are thinking of doing the same. The functional nature of the language also makes the course ideal for general English programs.

Passport follows the fortunes of five Japanese characters as they travel to various destinations in Australia, North America and the U.K. Your students can prepare for their own trips abroad, as they study the English that sees these characters through a variety of survival situations, such as asking for directions, checking into a hotel, talking with home-stay parents and answering questions about Japan. Twenty, two-page units all feature smooth progressions from controlled to freer practice activities. Background notes, provided in both Japanese and English at the back of the Student Book, help contextualize the lesson for the students. More cultural information can be found in the Teacher's Book.

The Passport Workbooks contain supplementary exercises that can be used in class or assigned for homework. The exercises review the material in the Student's Book, and provide extra grammar and vocabulary practice. Answer keys for the Workbooks are available separately. The test booklets contain two photocopiable progress tests for Passport. Test 1 covers units 1-10, and Test 2 covers units 11-20. An answer key is included in each booklet.
For Passport First Edition
(1)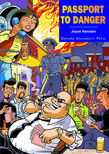 Passport To Danger
978-0-19-422510-6
A graded reader to accompany the popular Passport series.