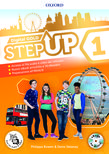 Hello
You can visit our worldwide website for our globally available teaching resources, or visit our local website for for products, events and materials for your area.
Please choose below:
Philippa Bowen, Denis Delaney
Libro Misto
Il corso d'inglese basato sulla metodologia "Step by Step", con un approccio guidato che sviluppa le Competenze, esplora i Compiti di Realtà e assicura un vero percorso inclusivo.

Informazioni e aggiornamenti sul sito dedicato a Step Up
Language Level: Beginner to Pre-Intermediate
Dagli autori di High Five, Philippa Bowen e Denis Delaney, Step up è il corso che mette al centro l'inclusività grazie ad una metodologia graduale che permette una apprendimento complete e sicuro. Massima flessibilità e strumenti tecnologici avanzati, permettono a ciascuno di seguire il proprio metodo di insegnamento. Il ricco apparato video con 4 tipi diversi di video, sostiene l'apprendimento in modo continuo e ampio spazio è dedicato allo sviluppo delle competenze. Il corso offre l'Interactive eBook da scaricare sul proprio device. Completano il corso materiali per studenti con BES, sviluppati in collaborazione con gli esperti di Erickson e del Gruppo DEAL dell'Università Ca' Foscari.
Disponibile
Sito per lo Studente
Metodologia 'Step by Step': lezioni guidate in 3 fasi per non lasciare indietro nessuno.
eBook interattivo del corso, biblioteca digitale con 16 letture, apparato video :con dialoghi, grammatica animata, funzioni e civiltà.
Materiali per lezioni inclusive:: esercizi 'Dyslexia-friendly', Mind Map book e 'Drills'.
Compiti di Realtà :all'interno di specifiche sezioni per lo sviluppo delle Competenze chiave per la Cittadinanza.
Collaborazione con Erickson e DEAL: gli esperti nell'inclusione didattica propongono una sezione specifica facoltativa nella Teacher's Guide.
Prove Invalsi ed esami: preparazione integrata nelle unità fino dal primo anno, per affrontare ogni test senza problemi.
Lezione in classe con la LIM : grazie al libro digitale del docente.
Oxfordpremium.it
TEACHER'S PACK
Teacher's Guide
- Introduzione sulla didattica inclusive e l'innovazione metodologica (con percorsi operativi online) a cura di Erickson e DEAL - Note didattiche alle unità - Accesso a 30 Oxford Young learners Placement Tests
Tests Resources
Class mp3 disc e Tests mp3 Disc
Anche disponibili
Classroom Presentation Tool su piattaforma oxfordlearnersbookshelf.com per fare lezione in classe con la LIM. Disponibile online, su CD e anche scaricabile sul computer.
DVD 1-3
Quick Check Tests and Marking Kit 1-3