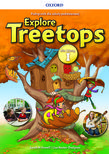 Hello
You can visit our worldwide website for our globally available teaching resources, or visit our local website for for products, events and materials for your area.
Please choose below:
First Edition
Sarah M. Howell, Lisa Kester-Dodgson
Explore Treetops 1: 786/1/2017
Explore Treetops 2: 786/2/2017
Explore Treetops 3: 786/3/2018
Explore Treetops to 3-poziomowy kurs języka angielskiego zintegrowany z treściami nauczania opisanymi w podstawie programowej dla pierwszego etapu edukacyjnego, w pełni zgodny z wymogami obowiązującego prawa oświatowego.
Kurs pobudza kreatywność uczniów i angażuje ich w poznawanie świata. Wybór Explore Treetops gwarantuje pełną realizację podstawy programowej i wysoki komfort pracy dla nauczyciela.
Podręcznik z nagraniami (dotacja)
Materiały ćwiczeniowe (dotacja)
Teacher's Power Pack
Classroom Presentation Tool
Teacher's Resource Pack 1-3
materiał dostosowany do potrzeb 7-latków w pierwszej klasie,
zróżnicowane zadania rozwijające sprawności pisania i czytania,
przenikanie się świata realnego i świata bajki,
treści prezentujące kulturę krajów anglojęzycznych.
ciekawe projekty integrujące pracę w klasie ze zdobywaniem wiedzy o świecie,
lekcje interdyscyplinarne – zintegrowane nauczanie przedmiotowo-językowe,
rozwijanie nawyku czytania dla przyjemności,
kształtowanie postaw społecznych.
przejrzysty układ materiału,
atrakcyjną szatę graficzną,
ciekawe historyjki z sympatycznymi bohaterami,
równomierny rozwój wszystkich sprawności językowych.