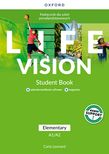 Hello
You can visit our worldwide website for our globally available teaching resources, or visit our local website for for products, events and materials for your area.
Please choose below:
Jane Hudson, Weronika Sałandyk, Jeremy Bowell, Paul Kelly, Neil Wood, Carla Leonard
Numer dopuszczenia MEN
Life Vision Elementary A1/A2 1130/1/2022 Carla Leonard
Life Vision Pre-Intermediate A2/B1 1130/2/2022 Jane Hudson, Weronika Sałandyk
Life Vision Intermediate B1 1130/3/2022 Jeremy Bowell, Paul Kelly
Life Vision Intermediate Plus B1+ 1130/4/2022 Jeremy Bowell, Weronika Sałandyk
Podręcznik dla szkół ponadpodstawowych
Language Level: Elementary to Advanced (A1/A2-C1)
LIFE VISION to innowacyjny, 6-częściowy kurs dla uczniów szkoły ponadpodstawowej z poziomami Intermediate i Intermediate Plus, które umożliwiają odpowiednie dopasowanie poziomu nauczania do potrzeb grupy. Kurs rozwija kompetencje kluczowe i przygotowuje do matury 2023 na poziomach: podstawowym, rozszerzonym i dwujęzycznym.
Podręcznik z kodem
e-book
Zeszyt ćwiczeń z kodem
Online Practice
Książka nauczyciela
Teacher Resources
Classroom Presentation Tool
Oxford English Hub
ZMOTYWOWANI UCZNIOWIE
WYGODNE NARZĘDZIA PRACY
SUKCES NA EGZAMINIE
SUKCES W ŻYCIU
ZMOTYWOWANI UCZNIOWIE
• Atrakcyjne teksty, oparte na autentycznych źródłach, zachęcające do wyszukiwania informacji w internecie
• Angażujące lekcje VISION 360 rozwijające umiejętności cyfrowe i dające okazję do wykorzystania znajomości języka poza klasą
• Bogaty pakiet różnorodnych materiałów wideo

WYGODNE NARZĘDZIA PRACY
• Oxford English Hub – jeden kod dostępu do wszystkich zasobów online
• Online Practice – zautomatyzowane ocenianie i łatwe monitorowanie pracy uczniów
• Książka nauczyciela – funkcjonalne kompendium w formie podręcznika ucznia z kluczem

SUKCES NA EGZAMINIE
• Zadania do nowej matury w całym rozdziale oraz w lekcjach Skills Trainer w podręczniku i zeszycie ćwiczeń
• Oxford 3000 i Oxford 5000 – słownictwo dobrane w oparciu o starannie wyselekcjonowane przez oksfordzkich leksykografów listy najczęściej używanych i najbardziej przydatnych słów
• Assessment for Learning – szybsze postępy i realizacja celów dzięki przemyślanym rozwiązaniom, testom i wskazówkom na każdym etapie nauki

SUKCES W ŻYCIU
• Nabywanie umiejętności skutecznej pracy zespołowej, rozwiązywnia problemów i rozwijanie świadomości kulturowej na lekcjach Global skills
• Nauka interpretowania, parafrazowania i podsumowywania informacji w zadaniach Mediation
• Myślenie analityczne, uzasadnianie wypowiedzi i kwestionowanie opinii w ćwiczeniach Think & Share

Life Vision includes: