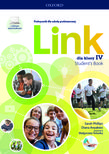 Hello
You can visit our worldwide website for our globally available teaching resources, or visit our local website for for products, events and materials for your area.
Please choose below:
Sarah Phillips and Diana Anyakwo Konsultacja: Małgorzata Tetiurka, Diana Pye, Jessica Finnis
Link dla klasy IV: 1089/1/2020
Link dla klasy V: 1089/2/2021
Link dla klasy VI: 1089/3/2022
Link dla klasy VII: 1089/4/2020
Link dla klasy VIII: 1089/5/2021
Link to nowoczesny kurs dla klas IV-VIII szkoły podstawowej odpowiadający potrzebom ucznia i nauczyciela.
Link to efektywne przygotowanie do egzaminu z zastosowaniem najnowszych technik i technologii. Niniejsze wydanie jest w pełni zgodne z wymogami obowiązującego prawa oświatowego.

Podręcznik posiada odzwierciedlenie cyfrowe. Oprogramowanie na tablicę interaktywną zawiera podręcznik, materiały ćwiczeniowe z kluczem odpowiedzi, nagrania audio i video oraz gry interaktywne na platformie Oxford Learner's Bookshelf.
Podręcznik z cyfrowym odzwierciedleniem
Materiały ćwiczeniowe z dostępem do Online Practice
Teacher's Power Pack
Teacher's Resource Centre (TRC) – e-zasoby z testami, materiałami do kopiowania i nagraniami audio
Classroom Presentation Tool do podręcznika i zeszytu ćwiczeń
WSPARCIE W DOSKONALENIU UMIEJĘTNOŚCI TWORZENIA WYPOWIEDZI PISEMNEJ
EFEKTYWNE WYKORZYSTANIE CZASU NA LEKCJI
ROZWIJANIE AUTONOMII UCZNIA
KOMPLEKSOWE PRZYGOTOWANIE DO EGZAMINU JUŻ OD IV KLASY
WSPARCIE W DOSKONALENIU UMIEJĘTNOŚCI TWORZENIA WYPOWIEDZI PISEMNEJ
nauka pisania krok po kroku
ćwiczenie wszystkich form wypowiedzi pisemnej
zadania My Writing Project stymulujące kreatywność i inne umiejętności przydatne w życiu
EFEKTYWNE WYKORZYSTANIE CZASU NA LEKCJI
zadania umożliwiające indywidualizowanie pracy z uczniami
Visual Core Route z oznaczonymi kluczowymi ćwiczeniami pomocny w pełnej realizacji celów lekcji
mobilizujące do pracy spersonalizowane zadania Your World na początku lekcji
ROZWIJANIE AUTONOMII UCZNIA
przydatne wskazówki i techniki zapamiętywania i utrwalania materiału
strategie rozwiązywania zadań
sekcje English in the real world motywujące do nauki języka poza klasą
KOMPLEKSOWE PRZYGOTOWANIE DO EGZAMINU JUŻ OD IV KLASY
zadania w formacie egzaminacyjnym - zarówno otwarte, jak i zamknięte
pomocne wskazówki
lekcje Repetytorium
Zobacz jak dodać swój e-podręcznik do biblioteczki Oxford Learner's Bookshelf
Link includes: