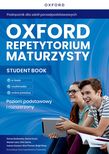 Hello
You can visit our worldwide website for our globally available teaching resources, or visit our local website for for products, events and materials for your area.
Please choose below:
Dorota Borkowska, Rachel Evans, Alastair Lane, Chris Speck, Joanna Szuwart, Nick Thorner, Brigit Viney, Catherine Zgouras
Konsultacja: Ilona Gąsiorkiewicz-Kozłowska
Numer dopuszczenia MEN:
Oxford Repetytorium Maturzysty. Poziom podstawowy i rozszerzony 1135/2022
Oxford Repetytorium Maturzysty. Poziom rozszerzony 1137/2022
Podręcznik dla szkół ponadpodstawowych
Oxford Repetytorium Maturzysty to elastyczny i nowoczesny kurs dla uczniów szkoły ponadpodstawowej, kompleksowo przygotowujący do egzaminu w nowej formule obowiązującej od 2023 roku.
Podręcznik z kodem
Teacher Guide
Teacher Resources
Classroom Presentation Tool
Oxford English Hub
Online Practice
e-book
POMÓŻ UCZNIOM OSIĄGNĄĆ SUKCES NA MATURZE
BĄDŹ PIONIEREM I STOSUJ NOWOCZESNE ROZWIĄZANIA
KORZYSTAJ Z WYGODNEGO WARSZTATU PRACY
POMÓŻ UCZNIOM OSIĄGNĄĆ SUKCES NA MATURZE
Wszystkie typy zadań obowiązujące na egzaminie od 2023 roku
Oxford 3000 i Oxford 5000 – lista starannie wyselekcjonowanych, najczęściej używanych i najbardziej przydatnych słów, opracowana przez oksfordzkich leksykografów
Obszerne sekcje rozwijające znajomość środków językowych
Wordpower – dodatkowe zadania leksykalne utrwalające m.in. idiomy, kolokacje i wyrażenia czasownikowe
Brainpower – leksykalne powtórki kumulatywne i strategie efektywnego zapamiętywania
BĄDŹ PIONIEREM I STOSUJ NOWOCZESNE ROZWIĄZANIA
Podręcznik z interaktywnym e-bookiem
Dodatkowe zadania Online Practice i wideo ze wskazówkami do egzaminu
Narzędzia dla nauczyciela: Classroom Presentation Tool oraz zasoby cyfrowe Teacher Resources
KORZYSTAJ Z WYGODNEGO WARSZTATU PRACY
Oxford English Hub – jeden kod dostępu do wszystkich zasobów online
Teacher Guide – funkcjonalne kompendium w formie podręcznika ucznia z kluczem
Online Practice – zautomatyzowane ocenianie i łatwe monitorowanie pracy uczniów
Dodatkowe zadania interaktywne do obu poziomów kursu:
180+ zadań na słownictwo (100+ na poziomie podstawowym, 70 zadań na poziomie rozszerzonym)
120+ zadań na gramatykę (60+ na poziomie podstawowym, 50+ na poziomie rozszerzonym)
100+ zadań na środki językowe (50+ pp, 40+ pr)
28 zadań na słuchanie (14 na poziomie podstawowym, 14 na poziomie rozszerzonym)
28 zadań na pisanie – (14 tematów na poziomie podstawowym, 14 tematów na poziomie rozszerzonym)
14 zestawów ustnych - 42 zadania
Zadania
Online Practice
umożliwiają:
doskonalenie sprawności językowych w angażującej dla ucznia formie dzięki nagraniom oraz interaktywnym zadaniom z wbudowanym automatycznym ocenianiem
doskonalenie poprawnej wymowy dzięki zadaniom z opcją "wysłuchaj, nagraj i odtwórz"
śledzenie postępów dzięki dostępnym raportom i podsumowaniom
dodatkowe utrwalenie materiału w łatwy i przyjemny dla ucznia sposób z wykorzystaniem komputera lub mobilnych narzędzi cyfrowych
Dwuletni dostęp do zadań
Online Practice
na platformie
Oxford English Hub
znajduje się w papierowej wersji podręcznika pod jednym kodem wspólnym dla wszystkich komponentów cyfrowych ucznia
Oxford Repetytorium Maturzysty includes:
Oxford Repetytorium Maturzysty includes: