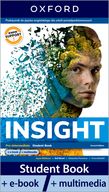 Hello
You can visit our worldwide website for our globally available teaching resources, or visit our local website for for products, events and materials for your area.
Please choose below:
Second edition
Numer dopuszczenia MEN

Insight Second Edition Pre-Intermediate A2/B1 953/1/2022
Jayne Wildman. Neil Wood, Alexandra Paramour, Fiona Beddall

Insight Second Edition Intermediate B1/B2 953/2/2022
Jayne Wildman, Claire Thacker, Alexandra Paramour, Cathy Myers
Podręcznik dla szkół ponadpodstawowych.
Language Level: Pre-Intermediate - Advanced (A2-C1)
Insight Second Edition to nowe wydanie czteroczęściowego kursu dla uczniów szkoły ponadpodstawowej. Kurs skłania do myślenia, rozwija i inspiruje uczniów oraz zapewnia przygotowanie do matury w formule 2023 na poziomach: podstawowym, rozszerzonym i dwujęzycznym.
Podręcznik
Zeszyt ćwiczeń
Oxford English Hub
Online Practice
Książka nauczyciela
Classroom Presentation Tool
e-book
Teacher Resources
Global Insight
Learning Insight
Language Insight
Matura Insight
Global Insight
Zmotywuj uczniów do refleksji nad otaczającym ich światem
NOWE sekcje poświęcone kompetencjom globalnym
Skłaniające do myślenia i pouczające teksty
Strony poświęcone kulturze oraz powiązanie z nimi materiały filmowe
Learning Insight
Pomóż uczniom rozwinąć niezależność, samodzielność i poczucie odpowiedzialności za swoją naukę
NOWE sekcje Assess Your Progress
NOWE, jeszcze doskonalsze lekcje uczące zasad pisania
Strategie rozwoju sprawności językowych krok po kroku
Language Insight
Zainspiruj uczniów do krytycznego myślenia i zgłębiania wiedzy o zasadach funkcjonowania języka
Bogactwo wprowadzanego słownictwa oraz dodatkowe poszerzenie na stronach Vocabulary Extra
Sekcje gramatyczne zachęcające do odkrywania reguł językowych
Zrównoważony i zintegrowany rozwój wszystkich umiejętności językowych
Matura Insight
Pomóż uczniom osiągnąć sukces na egzaminie
Zadania w nowym formacie egzaminacyjnym w każdym rozdziale podręcznika i zeszytu ćwiczeń
Wszystkie typy zadań maturalnych w każdym poziomie kursu
Sekcja maturalna Exam Insight do nowego formatu egzaminu w zeszycie ćwiczeń
Insight includes: