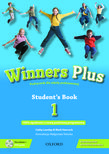 Hello
You can visit our worldwide website for our globally available teaching resources, or visit our local website for for products, events and materials for your area.
Please choose below:
Autorzy: Cathy Lawday and Mark Hancock
Konsultacja: Małgorzata Tietiurka
Nr dopuszczenia MEN:
Winners Plus 1: 285/1/2010
Winners Plus 2: 285/2/2010
Winners Plus 3: 285/3/2010
Language Level: Beginner/False Beginner - Pre-Intermediate
Winners Plus to uaktualnione i poszerzone wydanie cenionego kursu Winners dla klas 4-6 szkoły podstawowej.
Class Book with DVD
Workbook
Teacher's Book
Flashcards
Class Audio CDs
iTools

Dlaczego kurs Winners Plus cieszy się niezmiennym uznaniem nauczycieli?
Stosuje metodę nauki wielozmysłowej (MSL – Multisensory Learning).
Zawiera wiele elementów humorystycznych wprowadzających dobrą atmosferę na lekcjach – ciekawe tematy i wciągające komiksy.
Proponuje niebanalne pomysły na prace projektowe i przedstawienia klasowe.
Zawiera bogate materiały kulturowe w tym płyty DVD z filmami.
Ułatwia systematyczną naukę:
1 strona to 1 lekcja, zawsze wiadomo, jaki jest cel lekcji i czego uczniowie powinni się w jej trakcie nauczyć.
Krótkie, różnorodne ćwiczenia pozwalają dopasować tempo lekcji do potrzeb uczniów.
Gry i zabawy absorbują uczniów i zachęcają do posługiwania się językiem angielskim.
Idealne dopasowanie zadań z zeszytu ćwiczeń i podręcznika pomaga w prawidłowym wykonaniu pracy domowej.
---
Dodatkowy dział poświęcony gramatyce.
iTools – materiały do pracy z tablicą interaktywną.
Strony poświęcone samoocenie, podsumowujące realizację podstawy programowej.
Dla rodziców - strona Oxford Parents
Flashcards
Testy obejmujące również umiejętność rozumienia ze słuchu. Testy znajdują się na Teacher's Resource CD dołączonym do książki nauczyciela i na stronie internetowej.
Uzupełnieniem materiału kulturowego Winners Plus jest DVD Window on Britain. To zestaw krótkich fi lmów dokumentalnych dotyczących różnych aspektów życia w Wielkiej Brytanii.