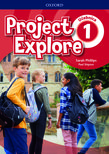 Hello
You can visit our worldwide website for our globally available teaching resources, or visit our local website for for products, events and materials for your area.
Please choose below:
New edition
Objavte nový svet učebnice Project Explore s rôznorodými postavami a vzrušujúcimi príbehmi. Každá hodina je postavená na osvedčenej metodológii učebnice Project a jej efektívnom prístupe k vyučovaniu gramatiky a slovnej zásoby.
Language Level: Level 1 až Level 4 (A1-B1)
Project Explore je 5 - úrovňový kurz, ktorý kombinuje osvedčenú metodológiu a štruktúru učebnice Project so 100% novým obsahom od nových autorov. Slovenská edícia učebníc, pracovných zošitov a metodických príručiek. Učebnica má odporúčaciu doložku MŠVVaŠ.
Učebnica
Pracovný zošit
Metodická príručka
Class audio CD
Classroom Presentation Tool
100% nový obsah
Rôznorodé témy, texty a úlohy pripravujú žiakov na používanie angličtiny v reálnom svete.
Učebnica vychádza v ústrety potrebám každého žiaka a dá sa efektívne využiť aj v triedach, kde sú žiaci s rôznymi vedomosťami a schopnosťami.
Projekty, kultúrne zaujímavosti, fotopríbehy a komiksy podnecujú zvedavosť žiakov.
Úlohy rozvíjajú kľúčové kompetencie žiakov a podporujú tvorivosť, spoluprácu a komunikáciu.
Pracovný zošit obsahuje hry a aktivity rozvíjajúce komunikačné zručnosti vytvorené len pre Slovensko metodičkami Zuzanou Strakovou a Silviou Pokrivčákovou.
Séria učebníc vytvorená tak, aby spĺňala štátny vzdelávací program ISCED 2.
Spark students' curiosity
Discover 100% new texts, photo stories, cartoons and activities.
Delve into a new fictional world in stories by award-winning author Paul Shipton, which offer cumulative revision of the grammar and vocabulary after every two units.
A course you can rely on
Each lesson is underpinned by the familiar Project methodology.
Culture and Learn through English lessons provide optional extra material.
Revision pages in every unit help you to monitor students' progress.
Further ideas and activities in the Teacher's Guide provide extra support and challenge.
Prepare your students for the next step in their learning journey
Develop life skills with activities that encourage creativity, collaboration and communication.
Strong emphasis on learning to learn prepares students for the world beyond the classroom.
Supportive approach to Writing and Speaking helps all students to become capable communicators in English.