Congratulations to our winners and runners-up of The Project Competition 2022.
We had so many great entries this year - well done to everyone who entered the competition! We're delighted to announce our winners and runners-up of the competition this year are from students in Czech Republic, Slovakia, Turkey and Thailand.
Take a look at their entries below.
---
About the competition
For the Project Competition 2022, in a group of (2 to 4 students) we'd like you to imagine you can invent anything that will make the world a better place and will help with one of these important global issues: climate action or improving health and wellbeing.
Your project should address the following four questions:
What problem do you want to solve?
• Climate action OR health and wellbeing
Why is this problem important?
What is your invention?
How will your invention help?
Your entry can be hand drawn, produced on a computer, or you can use your own original photos. You can choose to create either a digital or print project, but the photograph that you upload of your project must be legible.
Grand prize
Runner-up prize
Enter The Project Competition 2022!
---
How to enter
Who can enter? Any teacher who teaches students age 10 – 17 can take part in the Project competition.
Tell us which problem you want to solve: Climate action OR improving health and wellbeing.
Explain why this problem is important.
Describe your proposed invention.
Explain how your invention will help solve the problem.
Make sure your project is your own original work and does not copy anyone else's work (e.g. no images copied from the internet).
If you use photos or drawings of real people, make sure you submit a completed model release form for each person that appears.
Make sure the text in your project is legible.
Read and accept the Terms and Conditions.
Submit your entry online.
---
Frequently asked questions
Do you have a question about the competition? We've answered your most common questions in this short video. If you have another question, please email projectcompetition@oup.com.
---
Try out the competition as a classroom activity!
Complete the task in class with your students. Download a lesson plan and a worksheet to engage your students with the competition in class.
Download the lesson plan (PDF, 1MB)
Download the worksheet (PDF, 1MB)
---
Find out more about Project Based Learning
What is Project Based Learning? What does it mean for classroom learning? And how can you implement it?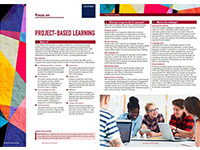 ---
Download your free certificate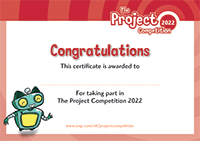 (PDF, 527KB)
---