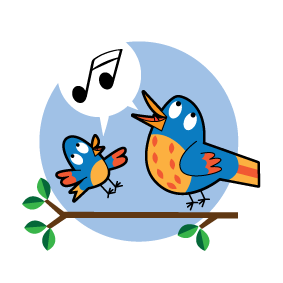 Your child will be singing many songs in English at school. Children love singing songs so it's an ideal way to encourage them to produce words in English. Children enjoy moving around too, and action rhymes will help make English words memorable for them.
Songs that your child knows
Most kindergarten English courses will include several songs a term. Encourage your child to sing the songs at home. Ask them to show you the page from the book that the song accompanies. Your child may enjoy teaching you the songs, especially any actions that go with the songs! If the course has a CD, play it as background music while your child is doing quiet activities or while you are in the car. You'll probably find your child starts singing along.
Make up actions to the songs together with your child. Many of the songs will include action words like jump or clap, so it should be quite easy to think of actions.
Creating simple songs in English
As well as using songs from your child's course, you can make up simple songs to practise everyday language in English. For example, you can sing these words to the tune of "Happy Birthday":
Hello, how are you?
Hello, how are you?
Hello, how are you?
I'm fine, thank you.
You can greet your child with this sometimes and encourage them to sing the final line back to you.
Think of a simple tune that your child knows and fit a set of English words to them. For example, you can sing the colours of the rainbow to the tune of the first two lines of Twinkle Twinkle Little Star.
Red, orange, yellow, green
Blue, purple, indigo
You can make up songs together with your child.
Finding songs to use with your child
There are plenty of songs for young learners of English on the Internet, but it's not always easy to find songs that will be useful.
There are three levels: Starter, Level A and Level B. Each song practises one area of language. Many of the songs are karaoke versions so you will need to read the words as they are highlighted – but the songs are simple and easy to sing. Find one with language that interests you and your child.
Two Little Birds rhyme
This is a rhyme that can be used with children of all ages. It is a traditional rhyme in English and it uses language that children first learn when they learn English. It has simple actions and you could make little finger puppets (PDF, 403KB) to use with the rhyme.
These are the words and actions:
Two little birds, sitting in a tree – [hold up a finger from each hand]
My name's Lucy. [bend one finger as if it's talking]
My name's Lee. [bend the other finger as if it's talking]
Hello, Lucy. [address the first finger]
Hello, Lee. [address the second finger]
Goodbye, Lucy. [put the hand of the first finger behind your back]
Goodbye, Lee. [put the hand of the second finger behind your back]
More songs and rhymes
Here are some more songs you can listen to and sing with your child:
The alphabet
Numbers
Food
A song about tidying up