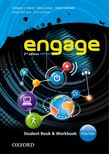 Welcome to the Engage Student's Website!
Here you will find a lot of interesting activities to help you get the most out of Engage 2nd Edition and Engage Special edition with online practice. The Student's Website contains e-cards, web quests, dialogues, picture dictionaries, and more, all of which can be used on a computer or on an interactive whiteboard!
We hope you enjoy using these extra resources.