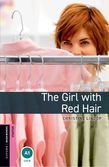 Research shows that the more you read, the better your English language becomes. Reading in English improves your listening, speaking, reading, writing, pronunciation, fluency and confidence.
It is important to read at, or just below, your level: so you need to know what your level is.
• Choose any of the 14 level tests (there are two tests for each level).
• You will receive instant feedback that will help you find your reading level.
These levels tests are also available through our 'How Good is Your English?' app. Find your level and enjoy a chapter from one of our 30 Bookworms apps for free.
Available for iPad®, iPhone® and iPod touch®, the 'How Good is Your English?' App can be found at the App Store.