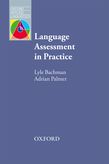 Language Assessment in Practice enables the reader to become competent in the design, development, and use of language assessments.
Authors, Lyle Bachman and Adrian Palmer, have developed an Assessment Use Argument (AUA) as a rigorous justification of how language assessment is used. The authors also demonstrate how the AUA guides the process of test development in the real world.
Read this overview to help you connect the material to your own interests in assessment.
Download selected Language Assessment Projects as examples of the process of test design.