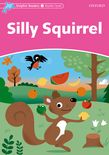 Dolphin Readers are an exciting and varied series of readers for young learners. They are available at five levels, and cover a range of fiction and non-fiction topics.
Information on the series, using the books, and using the audio CDs.
List of the most common words that appear at each level of Dolphin Readers.
List of topics, vocabulary, and grammar that you will find in each Dolphin Reader.
Download the Teacher's Handbook pages and free activities for each title.