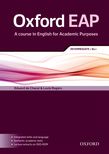 Welcome to Oxford EAP Teacher's Site. Oxford EAP develops the essential skills and academic language for learners who are preparing to study in English at university level, from foundation courses to postgraduate research. We hope you will find these additional resources useful.
Oxford EAP Teacher's Handbook for extensive methodology notes, and ideas for additional activities.
Ten additional worksheets to print and give to your class, to help your students practise their academic study skills. These worksheets are relevant to students studying English for Academic Purposes at all levels and can be used to supplement any level of the Oxford EAP course. Topics include avoiding plagiarism, preparing a bibliography, and teamwork. A full answer key is provided.
A2, B1, B1+, B2, C1 Answer keys downloadable as single PDFs.