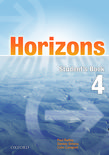 Welcome to the Horizons Teacher's Site, which offers you supplementary practice materials to download and use in the classroom.
Explore the Horizons student's site, which offers interactive grammar and vocabulary exercises, language games and fun quizzes, as well as e-cards.
Find here the tapescripts for all listening exercises from Horizons in Word format. Download and edit the tapescripts to create your own exercises.
Other OUP titles recommended for use with Horizons.
Download extra photocopiable exercises for every level of Horizons. These activities are only available from this website. There is also an answer key to exercises.
Download photocopiable worksheets which accompany the Horizons video interviews. There are comprehension and vocabulary exercises for every interview.