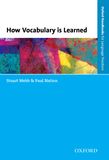 Welcome to the How Vocabulary is Learned online resources, which you can download and use in self-study or teacher-training groups. Here you can find:
A personal note from the authors
Sample material from the book
Discussion questions
An editable version of the Essential Word List
Answers for Version B of the Vocabulary Levels Test
Answers for the Intermediate level of the Word Part Levels Test
Weblinks to related content on other websites
Resources
The glossary of terms used in the book.
The first six pages from Chapter 1.
Discussion Questions
Use in groupwork to help stimulate critical thinking on the key points of each chapter.