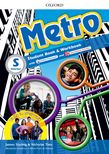 Welcome to the Metro Teacher's Site. Here you can find out more about using Metro in your classroom.
Metro Teaching Resources
The Metro Teacher's Guide provides all of the instructions and directions teachers need to conduct successful lessons with the course.
Scope and Sequence
Download the contents pages for all 4 levels of Metro
Find the right readers for Metro.