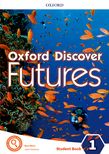 Welcome to the Oxford Discover Futures Teacher's Site. Here you will find extra resources to help you when using Oxford Discover Futures with your class.
You will find further support for Oxford Discover Futures in the Teacher's Resource Center, which provides a bank of online resources all in one place. Here you can also track the progress students are making on Online Practice.

Resources
Find advice on how to set up your new course, including all the information you will need to access and use your Teacher's Resource Centre, Classroom Presentation Tool and Online Practice effectively.
Online Practice
Use the following mapping documents to understand how the online practice activities provide further practice of the Student Book learning objectives to reinforce or extend students' knowledge of the target language. They can help you to assign homework or online learning to complement lessons from the Student Book.
Download information about Oxford Discover Futures and the Common Core State Standards (CCSS).
Download your Oxford Discover Futures Teacher's Guides.
Student Book Project Presentations
Download the following slide presentations to support your classroom teaching of Oxford Discover Futures Student Book project pages. The presentations can help you manage the project lessons to ensure maximum student engagement and interaction for each project.