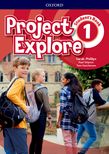 Welcome to the Project Explore Teacher's Site.
Please choose from the list below to access a variety of information, sample materials and downloadable files to support your Project Explore lessons.
Download your Project Explore Teacher's Guides.
Outcomes
These documents outline what students will achieve on a lesson by lesson basis.
Download additional playing cards for the Project Explore Board Game. Equally, use the blank cards to create your own playing cards.