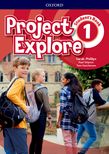 Welcome to the Project Explore Teacher's Site.
Please choose from the list below to access a variety of information, sample materials and downloadable files to support your Project Explore lessons.
Find advice on how to set up your new course, including all the information you will need to access and use your Teacher's Resource Centre, Classroom Presentation Tool and Online Practice effectively.
The correlation chart maps Project Explore to the CEFR.
Choose the right graded reader for your students.
Download your Project Explore Teacher's Guides.
Outcomes
These documents outline what students will achieve on a lesson by lesson basis.
Download additional playing cards for the Project Explore Board Game. Equally, use the blank cards to create your own playing cards.