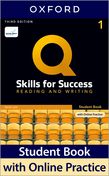 Welcome to the Q: Skills for Success Teacher's Site!
Q: Skills for Success is a six-level series with two strands, Reading and Writing and Listening and Speaking. High interest, academic content within a critical thinking framework empowers students and better equips them with the skills they need to achieve academic success.
On this teacher's website you'll find sample units, extra teaching ideas, materials, and strategic support that will help you and your students take full advantage of the course.
You can find further support for Q: Skills for Success Third Edition on iQ Online, which provides all teacher resources in one place to save you time. Here you can also track your students' progress.