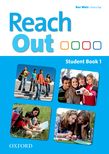 Welcome to the Reach Out Teacher's Site
Here you will find materials to download and use in the classroom, useful information about how to use Reach Out online practice, and information about the course.
Online Practice
Extra practice for Reach Out is available on the Online Practice. Students receive an access card for Reach Out Online Practice with their Workbook. Teachers can register for Reach Out Online Practice at www.oxfordlearn.com .