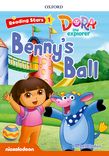 Reading Stars graded readers are at three levels and are for children aged 3 and older. They offer great stories to read and enjoy.
You'll need your Oxford Teachers' Club login details to access these free resources.
Not a member? Register for free. It only takes a minute and then you can access thousands of free resources, teaching tips, and tools.

Resources
Download free Resources, including the Teacher's Guide and Parent's Guide. You can also access Videos which offer parents expert advice on how to have the best reading experience with their child. You may find these Videos useful too.