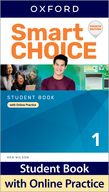 Welcome to Smart Choice Teacher's Site!
Here you will find extra resources to work with Smart Choice in your classes.
Find advice on how to set up your new course, including all the information you will need to access and use your Teacher's Resource Centre, Classroom Presentation Tool and Online Practice effectively.
Smart Choice 3rd edition Video worksheets
Accompany course videos with worksheets to help students practice and expand their language learning.
Smart Choice 3rd edition Customizable worksheets
Support your students with games and activities to practice the language of each unit.
Download your Teacher's Book for everything you need to teach the course with confidence.
Smart Choice 3rd edition Powerpoint grammar presentations
Powerpoint presentations explain and practice grammar points to support your teaching in each unit.