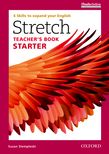 Stretch is a four-level, outcome-based, skill-driven series. In addition to explicit instruction in listening, speaking, reading, and writing, Stretch teaches viewing and presenting skills. The skills presented and practiced—in print and online—prepare students for success in academic and professional life, and on standardized tests such as TOEIC®.
Download your Stretch Teacher's Books here.
Download resources for each level: Placement Tests and answer keys to test your students. Oral Assessment testing Listening, Speaking and Presentation skills with interview questions, role-play cards and presentations. Written Assessment testing Grammar, Vocabulary, Reading and Listening skills with end-of-unit tests, Midterm and Final tests. Grammar Powerpoints to look at grammar points from the lesson in detail. Video Worksheets and answer keys to use with each unit.