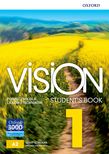 Welcome to the Vision Teacher's Site.
Here you will find teaching materials for Vision, the new course for secondary schools.
The Teacher's Resource Centre for Vision provides a bank of online resources all in one place.
>> Go to the Teacher's Resource Centre
Your students can download video and audio files from here: www.oup.com/elt/vision .

Resources
Use the step-by-step guidance, digital tools support, and course methodology training to help you get started.
Teaching Resources: Plany wynikowe, rozkłady materiału, kryteria oceny