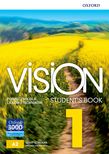 Welcome to the Vision Teacher's Site.
Here you will find teaching materials for Vision, the new course for secondary schools.
Your students can download video and audio files from here: www.oup.com/elt/vision .

Resources
Download the audio for the Student's Book and Workbook to use with your class.
Vision 2 Video
Download the videos to use with your class.
Download the Teacher's Guide to use in class.