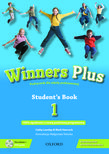 Witamy na stronie Winners Plus, poświęconej wyłącznie temu kursowi.
Tu znajdziesz wszystko, co może się przydać nauczycielowi uczącemu z tego kursu.
• Przeglądaj i ściągaj materiały, które wykorzystasz na lekcjach z Winners Plus, między
innymi testy.
• Pobierz plany wynikowe, rozkłady materiału, kryteria oceny i inne ważne dokumenty
do opracowania planu pracy z tym kursem.
Zajrzyj też do materiałów na stronie dla nauczycieli klas 4-6 szkoły podstawowej.
Śledź zmiany na tej stronie – będą pojawiać się nowości!

Useful information and resources for primary language teachers.
An extra class play for each level of Winners.