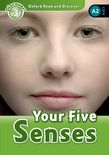 This series of non-fiction graded Readers provides interesting and educational content, with activities and project work
Series Editor: Hazel Geatches
CLIL Adviser: John Clegg
Teaching Notes Adviser: Robert Quinn
This Online Teacher's Handbook provides:
- Series information with general teaching suggestions and CLIL guidance.
- Teaching notes for each Reader with ideas for classroom use, and answers to the activities in the Reader.
Introduction
Find out about the series and its components, and view a full list of Readers.
Using Oxford Read and Discover
How to get the best use out of the series, with general teaching ideas - and a photocopiable world map.
Teaching notes and ideas for each Reader, including Read and Talk, with Answer keys for activities in the Readers.
Summary of Contents
Overview and selector chart - shows the Readers by level and subject area, listing vocabulary and grammar content, and topics and curriculum links.
CLIL Guidance
Find out about the benefits of Content and Language Integrated Learning, and how and why this series combines language with content.
Activity Book Answers
Answer keys for the Activity Book.